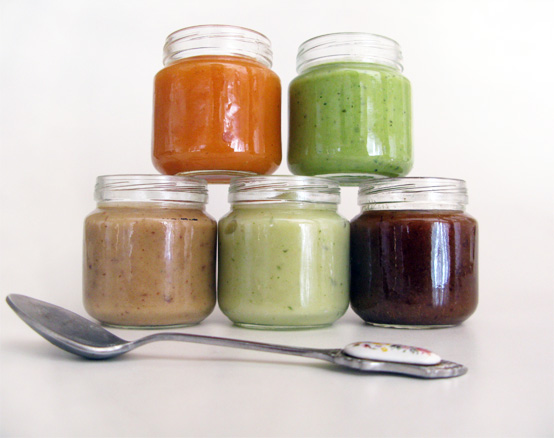 Yes. I will be making Evie's baby food at home instead of buying it from the store. We are doing this for several reasons:
1) I like to cook. I know pureeing veggies and fruits and meats isn't exactly gourmet, but let's remember the time that my husband's birthday dish from a very fancy restuarant was served with a "puree of edamame". I made sure to let him know that was basically baby food.
2) I like to know what Evie is eating. This was one of the main reasons I really wanted to breast feed. Since that didn't work out, I'm even more excited to make her baby food.
3) It't waaaaaay less expensive. I think the cost comparison is something like $350 for homemade to $1200 for store bought.
4) I can introduce her to spices like curry, cinnamon, cumin and garlic she might not encounter via Gerber.
5) Honestly, I think it sounds like fun!
I have three cookbooks full of baby food recipes. I have my strainer and my food processor. I have the
fresh baby oh so easy baby food storage trays
and I'm looking for some more on craigslist or ebay. I am going to buy some
2 ounce reuseable containers
for sending her food to day care and for taking it along.
I'm really excited!
Does anyone else out there have any other "must have" items for making/storing/travelling with homemade baby food! Or recipes that your little one loved?