Last week Chris spent Monday through Friday in DC for business. Ok, no biggie we do the traveling Dad bit a lot, we've got it down to a routine, Evie and me.
Except, no sooner had the door shut behind him on his way out when I walked into Evie's room to find her standing in her crib. What the heck? She doesn't even crawl right yet. She does this half normal crawl, half army crawl thing so I figured we had a minute before the pulling up started. I was wrong. She got really good at it really fast (also check out those teeth).
So Sunday we lowered her crib down two notches. We set her down in her crib and both walked out of the room for a minute.
Two minutes later we came back and her chubby little hands were grasped over that rail and her little eyes were peeking over -- like "Yeah. Try again fools."
We just laughed!
Link up and share your funnies for the week!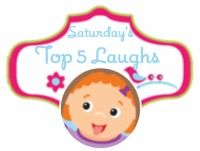 Tweet