If Evie was to pack "just her essentials" for a weekend getaway it would look something like this. These are the items that she loves most after her dog
Rocky Top
and Mommy and Daddy.
1) This super
annoying
awesome Fisher Price
Laugh & Learn Puppy
. This was a gift from Nana and Grampa for Christmas. Oh. Boy. As far as high entertainment goes, this baby takes the cake. It's also possesed. Late at night long after Evie is asleep in her crib, we can hear it say, "I LOOOOVE You" "Can I have a hug?" Cre-epy. However, it makes Evie super happy. This would totally be in Evie's suitcase.
2) Diego... Oh Lord how I rue the day Evie first watched Diego. I don't know how we discovered it, but Evie doesn't care much for television, but put on Go Diego Go and it is like a trance. She LOVES it. Crucify me for being a bad mom for letting my kid watch 20 minutes of TV sometimes five days a week, but those 20 minutes also keep her in clean clothes and bottles. A copy of Diego's latest and greatest would surely be in her carry on.
3) NUK paci. Nuf said. Don't leave home without it. Trust me. You'll regret it.
6) Aveeno calming lotion. Great for an after bathtime rub down from mom. It's just like a baby spa day. It smells so good and it is totally relaxing! This would definitely be in her bathroom bag!

7) BumGenius 4.0s, because, honestly, no one wants a leaky diaper overnight.
Come Link Up with Mama G!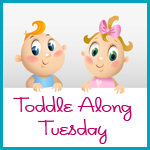 Tweet