After yesterday's rant about the State of Mississippi's
crap policy
on feeding kids at a daycare, today I am going to present Evie's favorite unprocessed Mac-n-Cheese!
INGREDIENTS
8 ounces of elbow pasta, uncooked (cut spaghetti also works great, you can use whole grain or Barilla PLUS)
3 TBS of butter
2 1/2 TBS all-purpose flour
pinch salt
pinch of pepper
1-1 1/2 cups of warm milk (I use at least 2% for this)
1 cup shredded sharp cheddar cheese
1/2 cup shredded Parmesan cheese
1/2 cup shredded Swiss, white cheddar, mozzarella (just another kind of cheese that melts well -- don't use anything hard).
Garlic powder, cayenne pepper, paprika.
METHOD
Cook noodles according to the package directions. As the noodles cook make the sauce.
In a medium sauce pan over medium heat melt the butter.
Once the butter is melted, sprinkle flour over top, whisking continuously until smooth. Season to taste with salt and pepper.
Add warm milk very slowly, and whisk continuously to avoid lumps. The warm milk is very important for avoiding lumps.
Once all the milk is added continue to cook until mixture becomes thick and bubbly. Allow to cook about 5-10 minutes longer, stirring frequently. This extra cooking time helps get rid of any floury taste and makes the sauce a lot richer.
(Don't forget your pasta! Drain it, toss with a tiny tiny bit of olive oil and return to warm pot.)
Add cheese into the bechamel and stir until melted. Taste and add more seasonings (this is where we add garlic powder, cayenne, paprika or more s&p if needed).
Stir cheese sauce into pasta.
You can also stir in fresh steamed broccoli and top with grilled chicken breast to make a fairly complete meal. I'd serve the adults a spinach salad on the side to make sure to get in more veggies!
Evie gobbles this stuff up! With all the fat and salt it's not the healthiest thing we eat but it's better than the powdered cheese stuff. Although, there is something delicious about Kraft mac-n-cheese isn't there!
Come Link up with MamaG for Toddle Along Tuesday, a fun blog hop about our kids!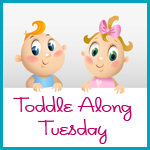 Tweet