Hi Y'all! I'm going to be doing highlight posts of my sponsors for this month, and I may continue doing it for next month too once I see how it goes.
I realize some of you don't neccesarily like to read sponsor highlight posts, and that's fine, however I would ask that you give these ladies a chance and check out their blogs. These are truly truly some of my favorite ladies in the blogging world. They are all super nice super amazing moms (but not in that make you feel bad about yourself way). They are a diverse fun group!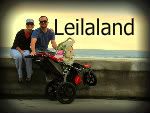 Check out some of my favorite posts from Jenn last month!
I love this post about not giving up on making mommy friends. I have my mommy wife, Libba, but other than that not too many close mommy friends. I might have to find more time to "mom-date".
In which we finally learned how to pronounce each other's girl's names. LAY-la and EEE-VEE not LEE-la and Ehv-EE.
I really like this idea because it can be used for any holiday!!!
Tweet