This is a picture I snapped with my camera on March 25, 2012. It was in between shots done my a good friend of mine. She was gracious enough to let me snap a few of my own photos while she took hers.
I am sure that a lot of people wouldn't qualify this as a great picture, but I do. I think it is a wonderful representation of my daughter. Serious. Curious. A people watcher and only prone to laughter when it really is funny. Having Evie bestow her laughter upon you is like winning the Olympic gold. She doesn't just laugh or smile for just any old person. She saves those rays of sunshine for the people she loves most and occasionally people she trusts right off the bat.
A lot of people act like this is not a desirable quality in a child. Joy = Laughter and therefore my child must not be joyful. So serious, too serious they'll say. But I think she's just the right amount of serious. She likes to examine things, to ponder them, to watch them. She's just like her mom, a chip off the ol' block. Curious, but careful, watchful and observant with an undeniable sweet streak.
This is a perfect portrait of my watchful little babe who despite not laughing at all silly faces, is willing to share her last cheerio with anyone she might think needs it.
Com link up your favorite picture for Toddle Along Tuesday with Mama G! It's a contest this week!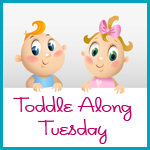 Tweet