When it comes to making meals for my family, these little babies are my best friends. I love how versatile they are. I get about four and a half cups of chicken so I can use one chicken for about three meals. You can also get really ambitious and make broth or stock out of the carcass. These are two of my favorite quick and easy recipes that use a rotisserie chicken. At the bottom I have included links to some others!
Meal Number One: Magic Chicken Noodle Soup
I love this chicken soup. It's my go-to when I am feeling down or sick. The first time I made it my husband asked me what I put in it, and I responded with "Magic!" Hence the name. This soup is great because it freezes well and you can make the whole recipe without the noodles during nap time or the night before and then just before dinner bring to a boil and add the noodles. It's very hearty and chock full of veggies so this soup can easily serve as an entire meal. NOTE: If you like a brothier soup add less egg noodles.
Ingredients:
1/4 cup of butter

1 1/4 cups of carrots cut into coins

1 1/4 cups of celery, diced

1/4 cup chopped yellow or white onion

salt and pepper

3/4 cup of corn (fresh or frozen, canned won't do)

2 (32 ounce) boxes of chicken broth

1 (14 ounce) can of chicken broth

1 1/2 tsp of poultry seasoning

1 tsp of thyme

2 chicken bouillon cubes

6-8 ounces of uncooked egg noodles

2 cups of cooked chicken, chopped or shredded
Method:
Add egg noodles and cook until almost done.

Add chicken and return to a boil to finish cooking egg noodles and heat chicken. Check for seasoning and add more if desired.
Meal Number Two: Chicken Pesto Sandwiches
These sandwiches are a perfect option for using up some more of that chicken! It's a great day two recipe; the prep is easy, the clean up is easy and half a sandwich with some fruit easily feeds one person. Plus, it is versatile so you can add what you have on hand. When I made these we added a handful of spinach since we had some and it was great! Also we make these on our old school (think from 2003) George Foreman grill. You can make these in a skillet or a panini maker too.
Ingredients:
4 slices of sourdough bread

1/4 cup of butter

1 TBS of chopped garlic

pesto

chopped chicken

spinach

2 slices of provolone cheese
Method:
Add garlic to butter and melt in microwave.

Preheat grill or skillet.

Spread one side of two slices of bread with half the butter and garlic. Spread one side of two pieces with pesto.

Now this is where you have to start moving quickly, so make sure you've got everything on hand.

Close your sandwich with the remaining two slices of bread, with the pesto facing down. Quickly coat the other side of the top bread slice with the remaining garlic butter.

Close grill and cook until cheese is melty and the bread is toasty.
A Few Other Faves!
Chicken Enchiladas
Easy & Delicious Chicken Salad
Enchilada Ranch Casserole
Ro-tel Chicken Spaghetti
CPK Style BBQ Chicken Pizza
Creamy Burrito Casserole
Easy Chicken Caeser Salad
Come share your favorite easy go-to recipes for Toddle Along Tuesday with Melissa from
Growing Up Geeky
!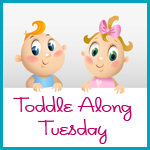 Tweet