I think for most of us mothers finding the balance between who we used to be and who we have become is a struggle. There is a definite identity shift that happens, especially for first time mothers, when the baby pops out and all of a sudden you become a mother.
So how do we find where we fit and how to make it all work? In our house we've done several things to make sure that neither Chris nor I become overwhelmed with being parents, and that we don't allow mom and dad to become all that we are.
1) We hired a cleaning service. Before I was a mother I had time at the end of the work day to clean and that helped keep weekend cleaning to a minimum. After having a baby that time at the end of the day disappeared. So I would spend hours on the weekend cleaning the house. I was missing out on time spent with my family and I was very frustrated. So now we have a really nice lady who comes once every two weeks and handles the big ticket cleaning items, leaving me with only sweeping, mopping and light dusting in between. I can't begin tell you the difference it has made.
2) We hired a lawn service. Similar to me with the cleaning Chris was struggling with the lawn maintenance. So for the Summertime we have some folks come in and cut and edge the grass. It's nice to have that load off of Chris' back.
3) We make time for ourselves. Some nights after Evie goes to sleep it's me taking a bath and Chris playing a little Xbox. Sometimes that means that Chris watches Evie while I go to the grocery store or I watch her while he goes to the hardware store.
4) We make time for family. We believe in the concept of spontaneous fun. We might randomly decide to take Evie to the park or for ice cream on a Saturday afternoon. If we are home on a weekend we might decide at 9pm on a Saturday to take Evie to the Zoo the next day, or snuggle in the bed on a Saturday morning eating Cheerios and watching Cars. Whatever it is we make time to just be together as a family.
5) Chris and I make time to just be us. We are blessed with grandparents near so we get many nights alone to go on dates or just spend some time together. In fact, this weekend my parents are taking Evie so that we can spend the weekend at the lake, just the two of us.
I think that we've done a good job finding balance, however we have also learned that finding balance is a constantly changing quest. That we don't find our balance and stop because life is always shifting and moving us forward!
How do you find balance in your life? As a parent? As a spouse? As a person? Come link up with Melissa at
Growing Up Geeky
and share for Toddle Along Tuesday!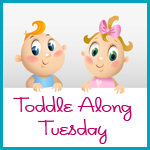 {Thanks for voting daily y'all! It only takes two clicks! Once on the banner below then on the owl on the left!}
Tweet