There are a lot of things you never realize you'll do as a mother. You might not realize that you will actually get poop all over you and even fish it out of a bath tub with your bare hands. You might not realize that you will eventually go out in public unknowingly sporting some sort of baby fluid on your clothes, be it spit up, slobber, boogers or poop it will happen.
Perhaps even more funny however, are the things that you say that make you stop and think, "I can't believe I actually just said that. This is an all time low." Some of the things I have said to or about Evie are hilarious and some are just downright gross.
"Evie! Quit playing with the cat box! Nasty! No!"
In the seafood section of the grocery store:
Me: Evie can you say fish?
Evie: SHIT!
Me: No, Evie. Don't say shit! Fish!!!
Evie: SHIT! SHIT!
Me: Ok, it's time to move on to poultry.
"Evie! Don't touch the dogs' butts!!!"
"Hi! I'm click the camera! Say click! Take a pic!"
"Evie. We do not eat diapers."
"Evie, please don't lick the cat, honey."
"Evie! For the love of God please don't put your hand in your poop!" (I say this on a lot.)
What are some funny or unexpected things you've found yourself saying to your kids lately? Come link up with Melissa at Growing Up Geeky and share!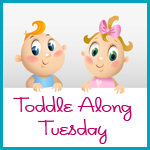 {PS Y'all Top Baby Blogs just reset and I need your votes! Thanks to you we made it to the first page and I'd love to stay there! It only takes two clicks! Once on the banner below and then on the owl on the left! Thank you so much for your continued support!}
Tweet