Today's Toddle Along Tuesday topic (say that five times fast) is favorite toddler toys. Now as we all know Evie's not a huge fan of
typical toddler toys
on the whole. However, she does have a few that she really really is loving lately!
1) Crayola Fold n Go Art Table. Evie love love loves to color so this is a must. It is lightweight so she can push it from room to room. Plus she loves to pick up the stool and carry it around with her. Weird but she gets a kick out of it!
2) V-Tech Sit to Stand Learning Walker. I guess technically she is a little old for this, but she still loves it. She loves to play music on it, dance to the songs and push it around as fast as she can!
3) Her chalkboard wall. I'm so glad we spent the extra time on this for her playroom (which still isn't finished by the way). She loves it. She will run to the shelves and point to her cup of chalk and look at me and say, "Momma! Cuh-hur (color)!" and nod her head vigorously at me.
4) Mega-blocks. She loves to build with these! She even takes them into the bath tub!

5) Rufus. She doesn't really play with her stuffed dog Rufus, per se, but she sure does love him. She called him "Rufees" and gets super excited whenever she sees him in her crib. I think we are going to have to buy a few back up "Rufees"!
Come link up with Melissa at
Growing Up Geeky
and share your baby's favorite toys and games!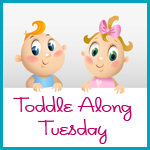 Tweet