I'll admit that when I was pregnant I
hoped for a boy
and I really thought we were having a boy. However, once the ultrasound tech said IT'S A GIRL (to which Chris replied, I guess I'll just give her the credit card now!) I embraced my girl mom status and I've loved every single second of it.
Evie is definitely not a prissy little girl. She's rough and tumble and very rarely cries at bumps, bonks, scrapes and bruises. There is no other way for her to be in our four dog household. But in some ways she is totally a girly girl!


For instance, she really really LOVES shoes. She is completely obsessed with them. If we let her in our room she immediately makes a beeline for the closet to stare at the shoes, clap her hands and squeal, "Shoes!!!" before picking up a pair and trying to put them on.

About a month and a half ago we ordered her a new pair of summer sandals from Amazon. Chris and I let her try them on right before her bath time. She was IN LOVE. She ran around for a few minutes the whole time looking down at the little flowers on the toe. This was a big mistake because she had to get in the bath before going to a friend's birthday party. When we took those shoes off she lost her little toddler mind. I've never seen such a fit. She cried straight until I put them back on her feet. At which point she smiled and started stomping around admiring her flowers again!


She's constantly trying to steal my shoes and put them on her own feet, while whispering "shoes, shoes, shoes".


She comes by it honestly her love of fancy foot wear, both her Nana and her Grammie are shoe hounds and so is her momma!


What funny things are your toddlers or babies obsessed with? Share yours and come link up with Melissa at Growing Up Geeky for Toddle Along Tuesday!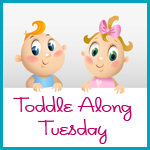 Tweet