Chris and I both grew up with family traditions of our own. Since both sets of our parents live within thirty minutes we've really had to work at combining our two sets of traditions. We both have our favorite parts of Christmas and we've taken those parts and combined them to make them our own.


Growing up Christmas Eve was always my favorite. As a family we would attend Christmas Eve Candlelight Service and then have dinner. Dinner was mostly at Macaroni Grille because it's one of the few restaurants open on Christmas Eve. Afterwards we would go home and my brother and I would open one present each (always new jammies) and then take pictures with our dog (or dogs as the years went on).


Christmas morning we would get up and have breakfast and open presents and see what Santa brought. My mom would make a huge amazing meal and after we watched movies all afternoon. We never went anywhere on Christmas Day. It was always a wonderful day.


Christopher grew up celebrating family Christmas on Christmas Eve and then driving to his mom's family's house on Christmas Day. They had a big Christmas Dinner on Christmas Eve and then watched movies. The year that Chris turned sixteen lives in infamy in his family. According to legend he was sent to Blockbuster to pick out the Christmas Eve movie that year. Being a typical sixteen year old boy he returned with Anaconda (or something along those lines). Nothing gets you in the Christmas spirit quite like giant snakes.


We've combined our two favorite traditions, and added some new ones to create our own.


After attending Christmas Eve Candlelight Service with the whole family (his and mine included) we have dinner. This year we decided that every other year we will switch between Macaroni Grille and dinner at Christopher's parents. Then we will return home, let Evie open her one Christmas Eve present (which will be new jammies) and after she goes to bed we will watch Home Alone and drink hot cocoa in front of the fire.

Christmas Morning we will do Santa then breakfast and then open gifts. We are also inviting all of the grandparents over at any point on Christmas Day so that they can hang out with Evie. Then in the afternoon we will do our Christmas Dinner. I dream of the day when I can make a fancy roast AND a turkey (I grew up with roast and Chris with turkey and neither of us will budge) and serve a huge meal on my wedding china in my formal dining room. Until then though we'll just do fancy little appetizers.

We are also awesome and get matching family jammies this every year. This years jammies are EPIC. I'm so excited to finally be able to wear them!


Do you have any favorite family traditions for the holidays? Come link up and share with Melissa at
Growing Up Geeky
for Toddle Along Tuesday!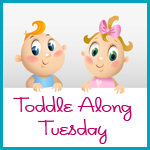 PS -- I'd like to thank every one of you who sent supportive tweets yesterday. For those of you who don't know my grandmother-in-law passed away yesterday. It was both expected and completely unexpected at the same time. I had this post pre-written and scheduled. I stopped it from posting because how could I talk about Christmas traditions when it feels like, in a single second, everything changed? But then I realized traditions are how we keep family alive.

Thanks so much again for your encouragment, and for your patience as our family works through this. We always appreciate your prayers and thoughts.


Tweet